Presentation
FAGA was created to represent the interests of the profession both nationally and internationally.
To achieve this we intervene in strategic negotiations, we conduct legal studies, organise meetings and maintain a continuous dialogue with our colleagues in Europe.
Specifically:
We coordinate the various professional associations and unions that make up FAGA.
We represent the general interests of the profession before public or private, state and inter-state institutions.
We defend writers' intellectual property and its correct management.
We promote the scriptwriter's image as author of the audiovisual work and also their work's recognition in society.
We encourage communication and a sense of community among writers.
Director's board
The Board is our governing body. It is made up by two members representing each of the four associations / unions, plus a President not linked to any other entity; It is set up this way to ensure the impartiality of their decisions.
FAGA´s Board members must be members of the governing bodies of the associations and unions they represent and their election will be carried out by their fellow members themselves.
Annually the board of FAGA creates working committees on the subject of negotiations and for projects.
The current board of FAGA would like to thank their predecessors for their selfless work, enthusiasm and great ideas. These are: Carlos Ares, Toni Cama, Nico Campos, Itxaso del Castillo, Rafa Ferrero, Pedro Fuentes, Juanjo Moscardó, Josep Penya, Carlos Piñeiro, Albert Plans, Henrique Rivadulla (Corcón), Pedro Rivero, Gemma Rodríguez, César Sabater, Puri Seixido, Miguel Suaña, Joanes Urkixo and everyone who has ever collaborated with us and those who collaborate with us now.
Ana Hormaetxea : President
Lda en Comunicación Audiovisual, Ana Hormaetxea forma parte de la Junta Directiva de FAGA desde 2010 y es Presidenta desde 2016. Como guionista de televisión ha trabajado con diferentes productoras (Pausoka, K2000, Gestmusic, 3Koma, Salta, o Keinu, entre otras), casi siempre para ETB y casi siempre en humor, en programas como "Vaya Semanita", "Vuelta de Tuerca", "Esto no es serio", "Balbemendi", "Ni un pelo de tontas", "Cuida tu vida",etc. También trabaja desarrollando contenido para marcas y, en definitiva, lleva más de 20 años contando historias en distintas plataformas. Es profesora adjunta del Master de Guion Audiovisual de la Universidad de Navarra.
Ara Gonda : Vicepresidenta
Licenciada en Periodismo, trabajó más de diez años en la redacción de deportes de la TVG. Ha escrito sobre todo series para TVG, como "Luci" (de la que es co-creadora), "Padre Casares", "Cuarto sen ascensor", "A vida por diante", "Os Atlánticos" o "Terra de Miranda". También participó en la serie para Telecinco "Piratas". En cine colaboró en el guión de "18 comidas", de Jorge Coira. Fue profesora de Guión en la Universidad de Santiago. Es miembro de la Junta Directiva de AGAG y miembro de la Junta Directiva de FAGA.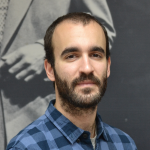 Associations
FAGA consists of four structurally independent associate members.
AGAG / Galician Association of Writers
EDAV / Valencian Audiovisual Writers
EHGEP / Basque Scriptwriters' Professional Association
GAC-SiGC / Associated Scriptwriters of Catalunya-  Catalunya's Writer's Guild
They were founded in the mid-nineties in response to the existing gap in the advice, support and claims relating to the audiovisual writers' collective.
Each association-guild's scope of action is its region. They negotiate with the government, with producer associations, consortiums or sector organizations and FAGA does not intervene in this respect. Occasionally we offer our cooperation in organised activities, if the objective is to achieve greater impact or lobbying.
Training activities or other organised projects as a service to members are also done independently. Sometimes two or more associations agree to produce an activity together or ask FAGA to intervene in one aspect or another.
FAGA is their link and our commitment begins where their competencies end. This applies to the entire country and Europe.